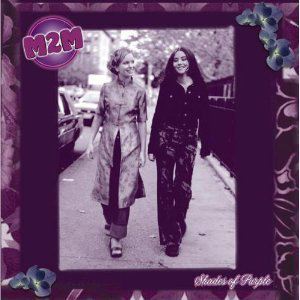 分类[Category]:英文流行歌曲
专辑名称[Name]:Shades Of Purple
歌手[Artist]:M2M
出版时间[Pubtime]:2000-03-07
人气[Hits]:840
上传会员[Member]:May
Having already won a place in the hearts of American audiences with "Don′t Say You Love Me" from the first Pokémon feature film, Norwegian duo M2M make impossibly sweet pop of the pubescent sort. Think ′80s Debbie Gibson and current teen-beat towheaded brother group Hanson. More wholesome than Britney or Christina (and arguably more talented than both put together), M2M sport stylings akin to girl-pop top bananas TLC. Endearingly, Marit and Marion′s Shades of Purple is a soundtrack for deliriously crushed-out teens right here, right now. The airwaves are ripe and ready for this comely twosome, whose delightful "Don′t Say You Love Me" and "Mirror Mirror" are hot tickets to blissful wonder in 2000. The harmonies are tight, the hooks fresh and light, and these songs simply sound great pouring out of a car full of twinkly young girls with every hope for a bright, shiny day.