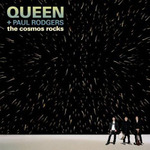 分类[Category]:经典英文歌曲
专辑名称[Name]:The Cosmos Rocks
歌手[Artist]:Queen 皇后
出版时间[Pubtime]:2008-09-17
人气[Hits]:1202
上传会员[Member]:May
标签[Tags]:
Deluxe two disc (CD + PAL/Region 0 DVD) edition includes a bonus DVD featuring 15 highlight performances by Queen + Paul Rodgers from the band's Super Live in Japan concert recorded live at Saitama Super Arena, Tokyo on 27th October 2005. The first thing you notice about The Cosmos Rocks, the much anticipated 2008 album from Rock legends Queen + Paul Rodgers is "all tracks written by Queen and Paul Rodgers produced and performed by Brian May, Paul Rodgers and Roger Taylor" (indicating that between them they played all instruments, including bass - Paul and Brian swapping duties - in case you were going to ask). This is obviously not a case of Rodgers lightly stepping in to fill a vocal gap, as some might have been drawn to assume would be the case when the three of them got into the studio together. No, this is a full bodied, group Endeavour: May, Rodgers and Taylor in a totally democratic union, even down to equally sharing the credits. The album's dedication to legendary Queen front man 'Freddie Mercury,' (you'll also see thanks credits to John Deacon and Paul Kossoff) shows the band mates still feel his presence strongly enough to dedicate this entirely new work to him, nearly 13 years on from Queen's last studio album. 14 tracks including 'C-Lebrity'. EMI. 2008.