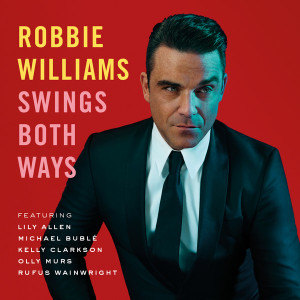 分类[Category]:英文流行歌曲
专辑名称[Name]:Swings Both Ways (Deluxe Version)
歌手[Artist]:Robbie Williams
出版时间[Pubtime]:2013-11-18
人气[Hits]:714
上传会员[Member]:May
罗比威廉姆斯2013华丽摇摆全新爵士大碟Swings Both Ways
"Swings Both Ways" is the title of the upcoming tenth studio album and second swing project of English singer-songwriter Robbie Williams. The singer released a teaser poster of the album alongside the official hashtag #robbieswings on September 11. This album will serve as the follow-up to his 2001 album "Swing When You're Winning" and it's scheduled for release on digital retailers on November 18, 2013.
Among the artists collaborating on this new project include Michael Bublé, Lily Allen, Kelly Clarkson or Olly Murs. As it was the first album of swing, this will also contain a mixture of new songs and cover versions of classic tracks. The first single is scheduled to be released in late-October. This new album comes after the end of the promotion of his latest LP entitled "Take the Crown", released in 2012.